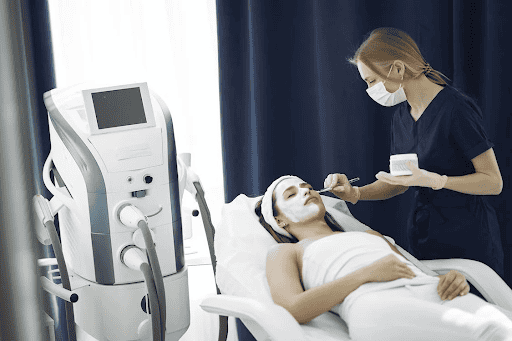 A chemical peel is the procedure of smoothing out texture of the skin by applying a chemical solution to it. Numerous skin conditions and tendencies, including acne, fine lines, wrinkles, and hyperpigmentation can be treated with it. A chemical peel treatment is a type of exfoliation, that enables your skin to lose a layer of dead skin to make place for new, healthier skin. Everyone can benefit from peeling. This treatment exfoliates worn, dull skin cells and stimulates the growth of new, healthy skin, allowing for faster cell turnover and stimulation of collagen-producing cells.
At Main Street Cosmetic and Skin, we offer chemical peel treatments to clients wishing to refine their skin and receive care for a variety of skin issues. After their treatments, our experienced skin doctors in Melbourne make sure to provide clients with suggestions, according to their circumstances. They also assist in understanding what might be anticipated after a chemical peel treatment, as listed below:
You will get common side effects that are short-lived.
There is a widespread misunderstanding that chemical peels are extremely painful or pose severe adverse effects. All skin treatments impact individuals uniquely, but in general, side effects from chemical peels should be moderate. Recovery should usually be complete after two weeks.
You may feel:
Tingling, burning and redness for the first few hours

After a few days, your skin may become dry, irritated, mildly swollen, flaky, discoloured. You may also experience breakouts.

Five days following the treatment, your skin's symptoms will start to subside, to which your skin will gradually become/look more normal.
Your Skin Will Peel
There's a reason why it's called a peel. The chemical is used to remove the top dead layer of skin. Three to five days later, the skin will begin to flake off. This often resembles how your skin peels after getting sunburnt. When washing your face, you should gently remove the flakes; however, avoid pulling or picking at the peeling skin because doing so can irritate the area and increase the possibility of infection.
Alter your routine according to your dermatologist
Chemical peels are quite successful at enhancing the appearance of skin because of the body's natural healing process. This is why it's important to give your skin time to recover after treatment. In order to prepare patients for their aftercare, our doctors frequently offer product suggestions based on their skin type for washing, hydrating, encouraging cell turnover, and, of course, shielding and recovering the skin from UV rays.
Don't forget to wear sunscreen!
Sunscreen is a daily must, but after a chemical peel, it becomes even more essential. UVA/B radiation from the sun can harm the skin more easily. After receiving treatment, you should stay out of the sun and cover up with broad-spectrum sunscreen with an SPF of 30 or higher. 
Avoid using chemical sunscreens right after your chemical peel. Use a physical sunblock in place of a chemical one to prevent a reaction to the chemicals in some chemical sunscreens. After your chemical peel, wearing hats, scarves or other protective coverings may be advised to keep the treated area physically covered from the Sun.
Wait patiently for results.
Since skin changes take a while to stabilise, it shouldn't be surprising that healing irregularities and damage takes time. Cosmetic procedures do not instantly make you look younger. Your commitment to looking after your skin post-treatment will determine the outcome of your chemical peel treatment plan. Be patient. Ask about your results at your follow-up appointment or call your dermatologist if you're concerned that a peel hasn't produced the expected result.
These are some of the things we advise our clients following their chemical peel treatment. If you are looking for a chemical peel near me then contact Main Street Cosmetics & Skin today by calling 03 9739 3830, emailing info@mscosmetic.com.au or fill in our online enquiry form on our website.